Übersicht
With a range of up to 265 ft (80 meters), the typical areas of application are in pipe cleaning and emergency service companies, in the construction industry, in municipal services, in house and connection inspections also from the main sewer, in renovation work, in the industrial sector and as a problem solver for difficult tasks.
Our VIPER® models enable an easy turning into branches.
A switchable forward jetting nozzle for removing blockages and the Full HD live camera enables efficient work on all VIPER® models, even in hard-to-reach places.
VIPER® long range
THE POWERHOUSE WITH THE GREATEST RANGE
FEATURES
With 265 ft (80 m) hybrid hose (3/8")
Optionally with 230 ft (70 m) hybrid hose (1/2")
W x D x H: 23 x 25 x 28 inch (58 x 64 x 70 cm) (handle retracted)
W x D x H: 23 x 25 x 43 inch (58 x 64 x 110 cm) (handle extended)
Weight 139 lbs (63 Kg) incl. 265 ft (80m) hybrid hose (3/8")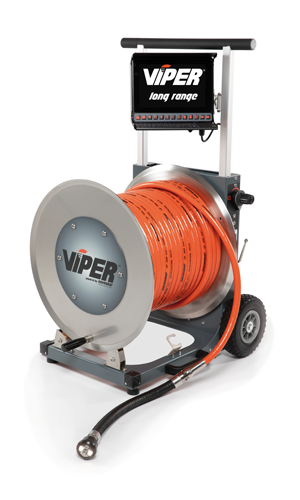 ---
VIPER® compact
SPACE SAVING AND WITH ALL COMFORT
FEATURES
With 200 ft (60 m) hybrid hose (3/8")
Optionally with 165 ft (50 m) hybrid hose (1/2")
W x D x H: 23 x 20 x 28 inch (58 x 52 x 70 cm) (handle retracted)
W x D x H: 23 x 20 x 43 inch (58 x 52 x 110 cm) (handle extended)
Weight 139 lbs (63 Kg) incl. 265 ft (80m) hybrid hose 3/8"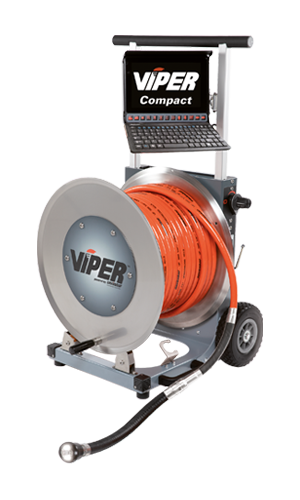 ---
VIPER® light
THE PORTABLE ENTRY-LEVEL MODEL
FEATURES
With 100 ft (30 m) hybrid hose (3/8")
Optionally with 82 ft (25 m) hybrid hose 1/2"
W x D x H: 26 x 9.5 x 29 inch (66 x 24 x 73 cm)
Weight 64 lbs (29 Kg) incl. 100 ft (30 m) hybrid hose 3/8"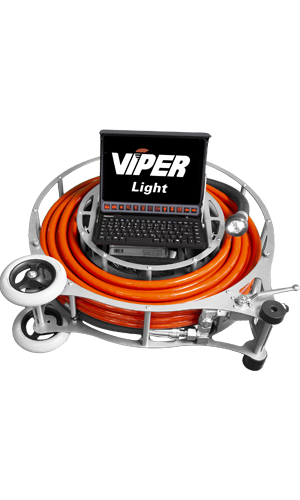 ---
VIPER® push
Schiebekamera - Coming soon
FEATURES
FAQ
General
How to steer the VIPER in the pipe?

By simply turning the hose, you can steer into branches, maneuver around obstacles or guide the camera in the apex of the pipe.

Can I operate the VIPER system on my HP-Jetter?

With at least 30l/min (8 gpm) and 110BAR (1600 psi) you can operate all VIPER models without any problems. Adjustments are possible by arrangement.

How long can I work with one battery charge?

A battery lasts for 2 ½ hours and can be charged mobile or changed.

Can the hose be repaired?

Yes, the hose can be shortened and retermed by us or at a service point.

For which pipe dimensions is the system suitable?

From DN80 (3") upwards, the system can be bent in multiple 45° bends. From DN100 (4") upwards, the system can be bent through multiple 90° bends. The cleaning performance is excellent up to DN200 (8") - depending on the flushing pressure, larger dimensions can also be cleaned. The illumination of the camera enables inspections up to DN400 (16") - but orientation in the pipe and finding laterals is possible up to DN800 (32").

What is the advantage of a VIPER system?

- Efficient and resource-saving work - saves time and money
- Cleaning under camera observation makes work easier and increases process reliability
- Controlled steering in laterals and junctions
- Damages can be recognized immediately and possibilities for rehabilitation can be discussed with the customer on site
- Cost savings, as there is no need for an additional camera inspection to record the condition
- Inspecting positions that cannot be reached with any camera system

What is special about the hybrid hose?

The hose was specially developed for tough use and is manufactured exclusively for envirobot.
In contrast to a rubber hose, the elongation is extremely low.
The electrical conductors are located in the jacket of the Kevlar-reinforced hose and are therefore reliably protected against damage.
Due to the consistent separation of electrics and water, transmission problems due to corrosion are excluded due to the design.
Recycling water operation, video in HD quality and the transmission of sensor data, e.g. Inclination angle is therefore possible.

The hose is also:

- floatable
- has low friction
- reversible thanks to same quick connects on each side
- can be used for a working pressure up to 4350psi (300 Bar)